Flag Football (TUES) - Fall 2019 Flag Football · Co-Ed Super Social (Adult)
Accepting Female Free Agents Only
Mon
Tue
WedThuFriSatSun
6:00pm to 8:00pm
7v7 - Play for an Hour, Socialize for 2-4 Hours After Games!
Free Agent Fees

Early Bird

$50.00

+ $3.00 Processing Fee

Regular

$60.00

+ $3.00 Processing Fee

Late

$70.00

+ $3.00 Processing Fee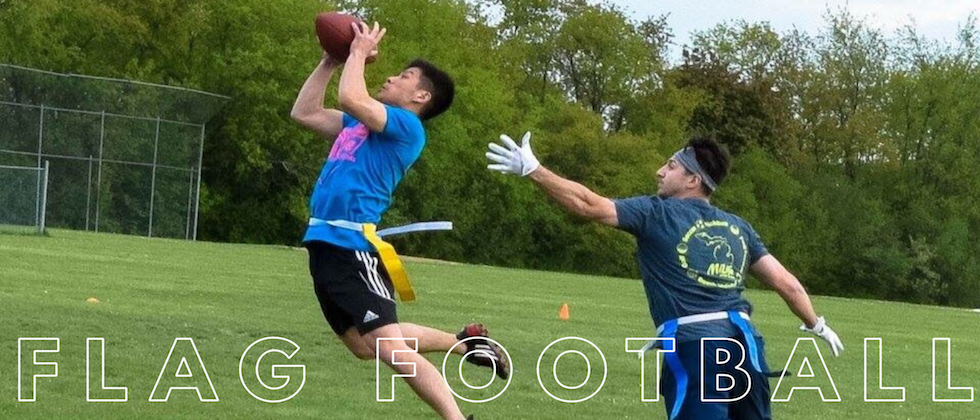 MiLife Sports House Rules:
#1 RULE: The Winning Team owes the Losing Team a pitcher of beer at the bar directly after your games! (Strictly Enforced) *Use this as a peace offering after a hard fought win, a networking tool, or a way to meet your future husband/wife!
RESEEDING: Takes place after week 4 / starting week-5, this creates a tournament for top teams, and keeps games competitive on both sides.
PICTURES: We take a LOT (Annoyingly), but you can check them out on our Facebook or Instagram pages!
DON'T BE A BRO: There are NO scouts at our leagues, and you are not going to the Pro's anytime in the near future (Sorry), so instead of showing everyone that you used to have skills or talk trash, learn how to be a good sport and socialize with other like-minded professionals in our club.
SPONSORED BARS: We have one for EVERY League/Night! Make sure to come out and hang with other people in the league and socialize/play drinking games with your teammates and friends!
*MiLife Players get VIP treatment with food and beer specials each league night!
PRIZES: 1st Place, 2nd Place, Dead Effing Last, & Most Social Team
THEME WEEK: At MiLife we try to bring out the inner child in everyone by doing a theme-week (Usually Week-5) each season so everyone can bust out some old Halloween costumes, or dress up while playing one of our coed sports. (i.g. 90's, Hawaiian, NASCAR, Denim...)
UPDATING SCORES: 'Winning Teams Captain' will update scores through the MiLife Website after games.
*You must be logged into our site for this, click on your profile/league you're playing in/schedule/league night.
*If you have any issues please contact our office for assistance @ 734-545-8859 or HaveFun@AaSportsClub.com
SUBSTITUTES: We allow subs anytime throughout the season, but they must be over the age of 21, they must be subbing for someone physically not there, and they MUST check in with a MiLife Staff Member and sign a waiver BEFORE stepping onto the field/court.
*Do NOT give subs game shirts to play in. Tell them what color your team is and they can bring their own shirt. This way we know they are subbing.
*If you are in need of a Sub for a game night, you can post on our sub group page, and also sub in on other leagues to check them out. LINK
*A Sub can ONLY sub 3-times in one season for a team/league.
*No Subs are allowed in the Playoffs
CANCELATIONS: Will be reported to players by 4pm the day of games and rescheduled to the end of the season.
HOME & AWAY: At MiLife we incorporate an old school Rock-Paper-Scissors tradition (Best 2 out of 3) to see who's home and away. If neither team knows how to do that, we default to a Rap Battle!
**MiLife Sport & Social leagues are 50% Social and 50% Sport. We do have STAFF at all games; however, we expect individuals to respect the leagues culture of fair and fun play. Foul language towards other players and rough play will not be tolerated and individuals who cannot adhere to our standards of fair play and sportsmanship may be asked to leave the league.
**MiLife Sport & Social Club wants all players to have a fun and social experience while enjoying a great sport. MiLife will do whatever they can to make sure all players are enjoying their leagues and meeting great people.
If your team is under the player minimum MiLife staff reserve the right to add free agents to your team (See FAQ's for more info)
We are a social league so get ready to have some fun and meet people by the hundreds!
Sponsored Bar:
TBD
---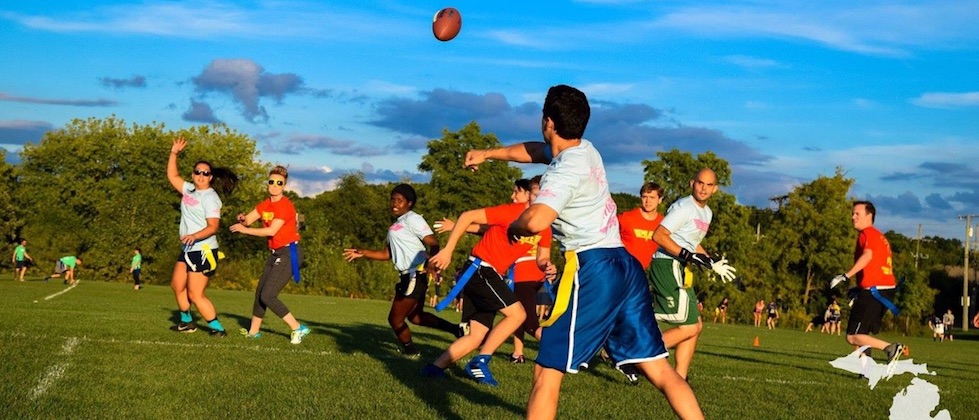 OVERVIEW:
Our flag football leagues are all social and a great way to stay active while meeting new people from the area. All of our flag football leagues are played 7v7 and are all coed. We push the social aspect of the club above all else. If you are the "Intense Bro" of flag football and can't play without pushing, shoving, or tackling everyone this league is not for you!
*Each season is 7-weeks long, 1-hour games, played once a week.
FLAG FOOTBALL BASICS
Teams Must Consist Of A Minimum 10+ People.
There Must Be At Least 3 Females On The Field At All Times.
Teams Will Have 7 People On The Field At A Time. Players Can Substitute At Any Dead Ball.
Games Are Played With (2) 22-Minute Halves, With A Continuous Clock And A 5-Minute Halftime.
Each Team Is Allowed 2 Timeouts (1-Minute Long) Each Half During The Game.
There Is One First Down Available Per Possession, When You Cross The Midfield Line.
Coed Guy/Girl Quarterback Rule.
Every Other Play Must Involve A Girl Either Catching Or Throwing The Ball. (MUST Be Completion For Forward Progress)
Games Are Self-Refereed, But There Is Always Be MiLife Staff To Assist.
Flags, Footballs Will Be Provided, We Highly Recommend Wearing Cleats As Long As They Are NOT Metal.
To Get A Good Grasp On The Rules Check Out The Full List Here: Flag Football Rules (MiLife) Copy.pdf
PLAYER PERKS
Awesome MiLife Sport & Social Club Shirt For Every Player. Teams Can Make Shirt Color Requests For Their Team When Your Roster Has Reached The Minimum Number Of Players. Check Out The SHIRT COLOR OPTIONS.
VIP Food And Drink Specials For Every Player At The Leagues Partner Bar.
Inclusion In MiLife Sport & Social Club Events And Activities
Awards At The End Of Each Season. Trophies, Gift Cards, Banners, And Plenty Of Swag.
Social Media, Pictures, And Plenty Of Ways That We Help You Brag To Your Friends About The Awesome League You Are Playing In Through Facebook, Instagram, And Twitter.
SPONSOR BAR
Click on a registration link for the league you are playing into see which location each league goes to. You'll get to meet and party with players from all the teams in the league so get ready to meet tons of people every week!


- 3 WAYS TO JOIN -
COMPLETE TEAM
10+ PLAYERS

SMALL GROUP
2-9 PLAYERS

SOLO/FREE AGENT
1 PLAYER


One person will create a team and register with the "Team/Small Group" option.

The captain will have the option to either pay for the entire team or have each player pay individually.

The remaining players will register for and join the team that the captain established.

The captain will be responsible for setting the group name, number of players on the team and picking a team shirt color.

If a team signs up and does not reach the full number of players we will add and merge players to form a full team.

One person will create a team and register with the "Team/Small Group" option (don't worry it's just labeled the same thing).

That person will then set the expected number of players they are planning on having join them in their group.

Once the group has been created the remaining group members will join the group as team players.

When registration closes the league will merge small groups and free agents together to form a full team.Need further help signing up as a small group? Check out our step by step instructions.

Want to play but don't have anyone else willing to join? That's no problem, you are going to have a great time.

Register as a free agent and the league will place you with a small group and/or other free agents to form a full team after the registration closes.
If you sign up for one of our leagues, and as long as the league happens, we guarantee you will be placed on a team!
Corporate Teams
If you or your company are looking to put together an office team to play a social sport this season, look no further than MiLife Sport & Social. Our leagues are a great way to bring the office together, team build and have fun in a social setting. We offer great company discounts for teams looking to play with us, so if you are interested in signing up your team please email MiLifeSportsL2@gmail.com and we will work with you to get you the best price for your company.
Contact Us
Have questions about the league still check out our Frequently Asked Questions page or email us at info@aasportsclub.com
*All players must be 21 years of age to play*